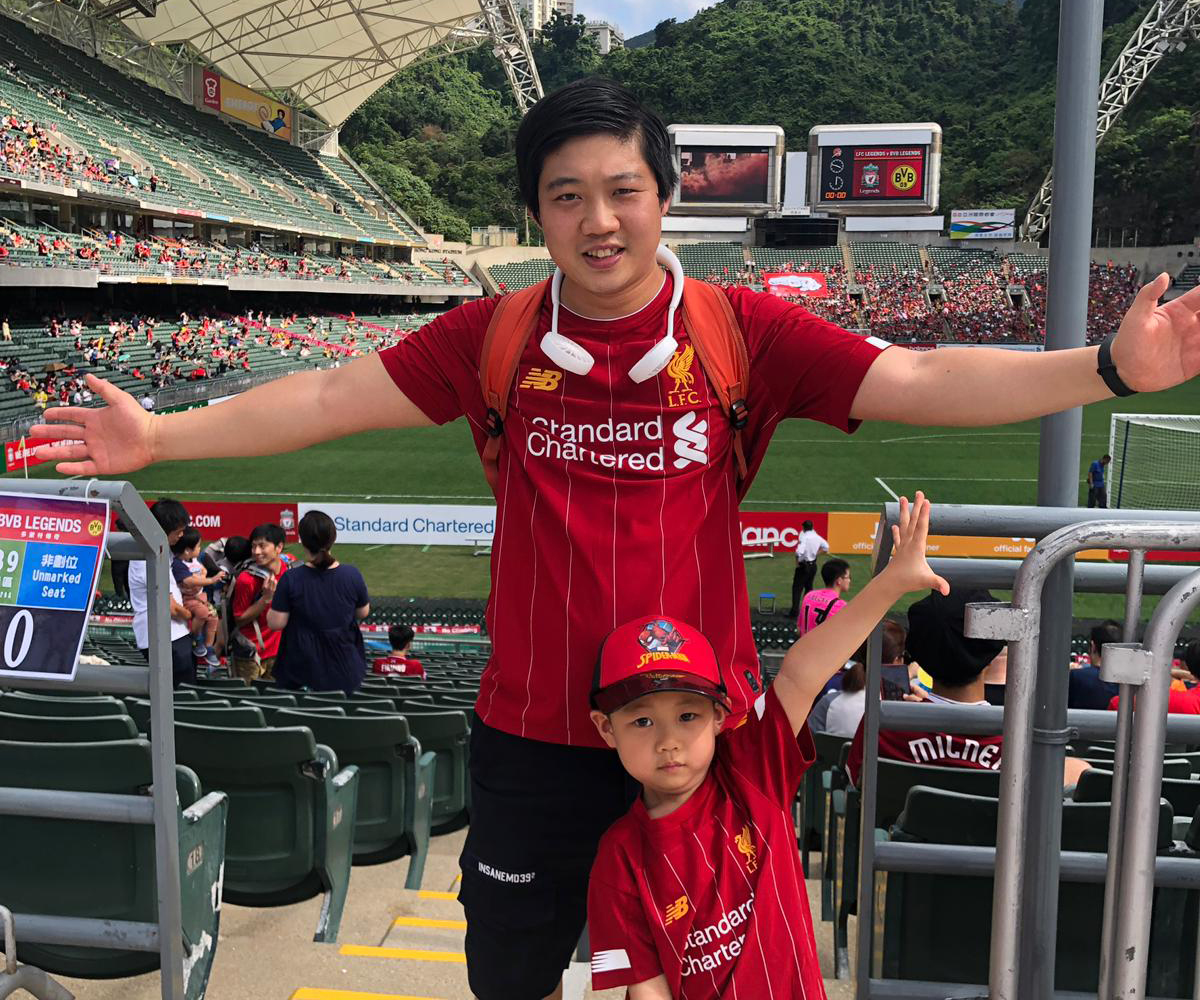 Big hitter Po tells us about posh yachts, childhood drinking in Ireland and hating Michael but loving Mickey…
Personal
Tell us about your background.
I am Irish-born Chinese from Drogheda, County Louth in Ireland. My parents emigrated there in the 1980s. I have two younger brothers, one is a Red and the other is a red Manc.
When did you move to Hong Kong?
I moved to Hong Kong in July 2016 when my wife gave birth to our second child.
What do you do for a living?
I've worked in aviation and tourism. I currently work in the hospitality industry at a Private Members Club where there are many luxurious boats. Haven't seen John W Henry and Linda Pizzuti's boat in Hong Kong yet! Maybe one day…
Best work memory?
Back in May 2007, the aviation company I worked for in Dublin asked me to work in Liverpool Airport for five days. The company covered my flight tickets, accommodation and meals. During those five days, I looked after the Liverpool supporters travelling on flights to the Champions League Final in Athens. I watched the actual match in a pub in Liverpool city centre. The result didn't go our way but the overall experience was just incredible.
Favourite place in Hong Kong? Why?
Since moving to Hong Kong, I've been a big fan of hiking. There are so many mountains and hiking trails in Hong Kong that I never knew about until I dug deep and did my research. If you have family or friends that come to Hong Kong, make sure to have hiking as part of their itinerary. I'd highly recommend Tai Mo Shan because it just feels great to be at the highest point in Hong Kong, overlooking all the skyscrapers below.
Hobbies?
I love to exercise. Playing football and squash are my big hitters.
Liverpool/Supporters Club
How long have you been supporting Liverpool?
Since I was 8 years old – when we lost to that Cantona goal in the 1996 FA Cup Final. Despite the defeat, my love for Liverpool Football Club started from that day and is still going strong 23 years later.
What was the first game you attended?
Liverpool vs Leeds at Anfield in 2003. My dad and I were seated in the front row of the Sir Kenny Dalglish Stand (Centenary Stand back then). Harry Kewell was on fire in red that day!
How will Liverpool's season finish?
This current Liverpool team is special. Klopp will guide us game by game and fingers crossed that is enough…
Favourite ever Liverpool goal?
My youngest brother and I were in the Anfield Road end for the Fernando Torres goal against Arsenal in the Champions League Quarter Final in 2008. The turn and the shot into the top corner – no keeper stood a chance…then the whole stadium erupted!
Heroes?
My first ever Liverpool hero was Michael Owen. Was gutted and furious when he joined United.
Favourite current Liverpool player?
Virgil Van Dijk – the beast. We didn't know how to defend until he came in.
Favourite past Liverpool player?
Steven Gerrard – could do everything.
How did you find out about the Hong Kong Reds?
Liverpool came to Hong Kong for pre-season to play in the Premier League Asia Trophy in July 2017. My friend Mick and I were walking with the crowd after the Liverpool vs Leicester City match when suddenly a small group of about ten fellow Reds caught our attention. We continued singing on the busy streets of Causeway Bay. Eventually we reached the bar and the Hong Kong Reds started for me from there…
What does the Supporters Club mean to you?
During my childhood days in Ireland, I would always go into my local pub. We would watch the matches but there was never any singing involved.
To join this Supporters Club is what I have been looking for since those childhood days. To be able to share the love of watching Liverpool and supporting them by singing in front of a television screen – that was my childhood dream.
What's the best part about being an LFC fan?
Sharing the rollercoaster rides together with our unique fan base. Also we have a superb variety of songs, both new and old.
What's the worst part about being an LFC fan?
When we lose a match and all the United fans come out of their shell on social media.
Why is The Lockhart 88 a good venue for the Supporters Club?
Since it was renovated, the place looks more colourful with the flags. The venue is the perfect size – not too big. It feels we are part of it together and not all scattered around as we might be in a bigger venue. The staff are friendly and efficient. They recognize returning customers.
How does it feel watching games so late at night, especially mid-week games?
Very, very tough – especially if you don't own a pair of glasses and need to wear contact lenses like I do. I have a dilemma before matches and that is to sleep or not to sleep?
What's different about a Hong Kong-based LFC supporter?
The love for the Reds is the same. Just the 4am kick offs. Contact lenses or no contact lenses? Beer or coffee?
All-time favourite LFC moment?
Got to be Istanbul. Didn't go to school that day as I listened to the pre-match build-up all day on Talksport radio. Then the comeback and penalties. I did go to school the next day – happiest school day of my life!
Favourite Supporters Club moment?
Barcelona in the Champions League semi-final second leg. The Lockhart 88 was packed for the first leg and we lost 3-0. Then, surprisingly, for the second leg only about fifteen turned up. Surely we couldn't do it, with them having Messi and us needing to score four goals without conceding? The rest is history…
The Important Stuff
What's the best thing you've ever won?
There was a holofit football competition in my gym. The winner got two return flight tickets to Seoul… Happy flying!
Full English breakfast or Dim Sum?
Dim Sum because there's more selection and it's healthier.
Who would you most like to be stuck in an elevator with?
Roy Keane because he is funny and hates United. Probably a better pundit than a footballer.
What would you like to chuck into Room 101?
Michael Owen – simply because he is a traitor.
What's your favourite TV show?
Mrs Brown's Boys – a good laugh.
What was the last DVD you watched?
Mickey Mouse and Friends – somehow have to take LFC off my mind!