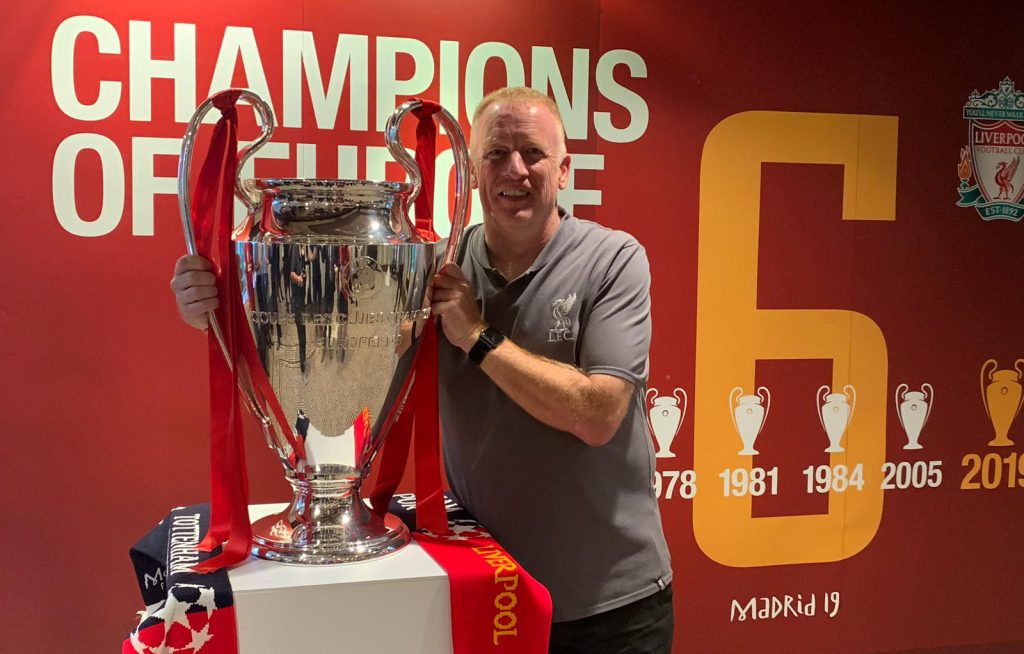 2018-19 Supporter Of The Year Chad Pheasant tells us about shaping the minds of the young, being a muppet and mocking the afflicted…
Personal
Tell us about your background.
I was born in Reading in 1970 and lived in Southampton from aged 6 to 19. I told my parents that my roots were in Liverpool when I was very young and that I was going to move to Liverpool as soon as I could. I managed to achieve this aim at the tender age of 19 when I moved to Liverpool as a student. Once I finished my degree and PGCE, I started my career teaching in Huyton and stayed in Liverpool until I moved to Hong Kong.
When did you move to Hong Kong?
I moved to Hong Kong at the age of 29 in 1999. I have lived here ever since, after telling everybody I was here for two years and would see how it goes. I knew within about 2-3 weeks that I would be here longer than that!
What do you do for a living?
I am a Vice Principal at Beacon Hill School, one of the ESF schools, in Kowloon Tong
Best part of your job?
Being able to shape the minds of the future generation, and by that I mean being able to persuade the children that Liverpool are the best football team. Also, it's always good to walk around on the playground, smiling, when we've just beaten a team that I know a lot of the children support.
Worst part of your job?
Having to walk around the playground, smiling, when we've not beaten that team that I know a lot of the children support.
Favourite place in HK? Why?
My favourite place in HK is The Lockhart 88 after we've won a game. The atmosphere can't be beaten for a packed game and the drinks keep flowing after the game.
Liverpool/Supporters Club
How long have you been supporting Liverpool?
I don't remember a time when I didn't support Liverpool. My Mum tells me that she knew I was a Liverpool fan from a very young age when I would sit, transfixed in front of the telly when the team in Red were playing. Luckily, I had enough sense to know which was the right team in red to be transfixed by!
What was the first game you attended?
Admittedly, I had to look this up, but I'm pleased to say that my memory has served me well. 7th May 1977, and I was in London, visiting my Nan, when my Dad told me he was taking me to my first game. He is a Fulham fan, and told me we were going to see Fulham play Leyton Orient, but I was just happy to be going to the match with my Dad. I duly ran alongside my Dad as I tried to keep up, asking him loads of questions about Fulham, as I didn't know any of their players or anything; to me they were Accrington Stanley! He kept calm despite this and was rewarded with seeing my face light up as it gradually dawned on me that I was going to watch Liverpool play QPR. Watched us draw 1-1. Was hooked with it all. My Dad was less impressed as we looked across the pitch to see the half time scores at the letters with scores underneath them and he found out that Fulham were 5-0 up at half time! He explained to me, through his clenched teeth and tears, that he'd never seen Fulham score 5 goals in a single match. They eventually went on to win 6-1 and I'm not sure he's ever forgiven me since!
How will Liverpool's season finish?
Hopefully with one point more than anyone else in the league.
Favourite ever Liverpool goal?
Far too many to mention. Any of King Kenny's goals as he was my absolute hero growing up. Honourable mention to Terry Mac's header against Spurs in the 7-0 rout of a team who had 2 foreign World Cup winners in their team. I remember being really scared that Spurs were going to batter us because they had the 2 Argentinian world beaters in their team! That's when I truly realised we were the best in the world!!
Fondest football memory?
Hard to pick, but from my time in Hong Kong it has to be watching the 2005 Istanbul final. I stayed at home as I had a two month old to help look after and watched the first half on one couch and the second half on a different couch. Needless to say, I got rid of the couch from the first half as soon as possible after. Such lows to such highs in a game. I remember having to answer the phone to UK friends and family who were all asking how long I was gong to stay out and carry on drinking for and I was explaining to them that I was late for work and had to run. Time difference obviously difficult for some people to cope with!
Beating Barcelona in the Champions League at Anfield last season is a close second.
What football law would you change?
I would change the rule that says a ball that is 1.1cm from being over the line doesn't count as a goal.
Favourite current Liverpool player?
Tough call as the current team are all brilliant as a team unit. If forced to choose I would go for Trent Alexander-Arnold. Love how he has such an eye for a ball into the danger area time and time again. Also, that corner…
Favourite past Liverpool player?
Again, far too many to mention. King Kenny, along with Ian Rush – what a partnership! More recently Xabi Alonso and Stevie G with their range of passing and shooting. I could go on for hours about others too!
Worst player ever to play for Liverpool?
Sean Dundee, although I don't hate him as much as I hate El Hadji Diouf. A classless man, with shite talent, and mouths off far too much.
How did you find out about the Hong Kong Reds?
I was introduced to the delights of the Hong Kong Reds through a friend, Mark Davies, who brought me along to Amici a while back. I was hooked from the moment I walked in with the flags on the wall and the buzz. And we didn't have that good a team then either!! Soon started to enjoy our roles as the Statler and Waldorf characters and saw it as a success if Ian told us to f*** off when giving out answers at the end of raffles!
What does the Supporters' Club mean to you?
The highlight of the week. Watching the best team, surrounded by such a great group of fans who enjoy a drink or two as much as I do. I genuinely love watching the games and the humour that is part of it all. Not sure I'll be able to carry on doing the Stupid O'Clock kick offs again this season, though. It nearly killed me last season!
What's the best part about being an LFC fan?
The highs that they have given me over the years. Some of my best memories, with friends and family, involve Liverpool winning games and trophies.
What's the worst part about being an LFC fan?
Having to deal with the lows. The lows can be tough to deal with!
Why is The Lockhart 88 a good venue for the Supporters' Club?
The Lockhart 88 is great because it's a venue that suits us and works with us to make sure we have a good night. Since the Amici days it has been my favourite bar that we have used. The videos from after the Champion's League final last year of everyone on the street outside singing Allez! Allez! Allez! I will never tire of watching.
How does it feel watching games so late at night, especially mid-week games?
It depends on the result! It can be tough getting up in the middle of the night and making my way down to the game, knowing I'm not going to be drinking and will have to head to work straight after the end of the game. The double stamps help!
What's different about a HK-based LFC supporter?
I've been watching in Hong Kong now for so long it has become normal to be able to watch all the games, if I can manage to stay up, without missing a single minute. Gone are the days of heading down the road to the snooker club to watch the illegal TV feed from Norway, alongside the City FM or Radio City commentary, which was always out of sync.
All-time favourite LFC moment?
Istanbul was amazing. As a child I loved watching the European Cup finals from 1977 onwards. It has become a family tradition for my Dad to take me to KFC (or Kentucky Fried Chicken as it was then!) after the game to celebrate. It's something that we still share, and he took me to KFC this summer to keep the tradition alive.
Favourite Supporters Club moment?
The moment that Ian was shot by a sniper and tore his achilles when we scored against Spurs in injury time was funny at the time. Was less so when we found out how serious the injury was! Does still make me laugh how he's still claiming it as a football injury though!
I also loved it when I brought my son Adam to watch a game with us after Clockenflap. Everyone made sure he felt welcome and he turned to me after the game and said he completely got why I was always talking about going to watch the game with the supporters club. He loved the irreverent banter (although I hate that word!) and all the singing that we were doing too. He said it was like going to the match itself for him.
The Important Stuff
If someone were to make a movie of your life, who should play you?
Geoff Paine. I've spent my life, from about 18 onwards, being told how much he looks like me. Look him up for those of you who don't have a clue who he is!
Have you ever drunk so much that you've forgotten your name?
Yes, but I do know I have always managed to find my way home!
What was your worst haircut?
My long haired combed over casual look from the mid 80s. I was young and stupid. Now I'm just old and stupid, but wouldn't be seen dead with that haircut.
What's the best thing you've ever won?
The Liverpool FC Official Supporters Club Supporter Of The Year trophy. Will be so good not to hear Helen say "as reigning champion…" this year!!