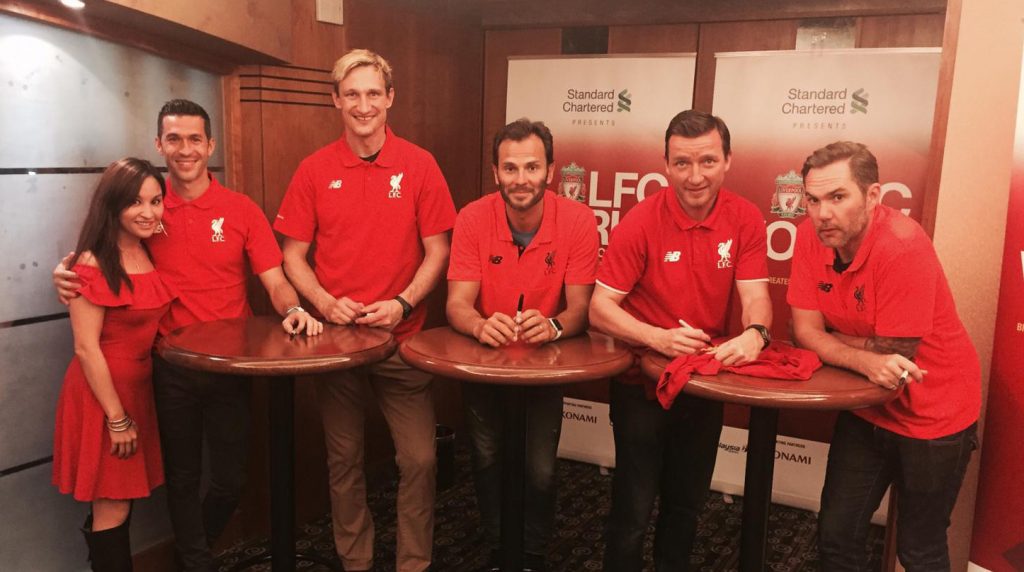 2017-18 Supporter Of The Year Helen Chan tells us about Ian Rush as a Chinese dishwasher, playing dead to children and ruining the 2018 Champions League final for Reds everywhere…
Personal
Tell us about your background.
I was born and brought up in North Wales. I became an unofficial Liverpool supporter when I was about 4 years old, after my brother used to beat me up until I said I supported Liverpool!
Fun fact – many moons ago, Ian Rush worked in a Chinese Restaurant in Chester with my dad during one of his summer holidays.
When did you move to Hong Kong?
I moved to Hong Kong in the summer of 2007 "for a couple of years". Twelve years later and I'm still here!
What do you do for a living?
I'm an English teacher.
Favourite HK bar/club? Why?
I'm a Soho bar girl for the friendly neighbourhood bars, like Cheers, but always end up in Wan Chai afterwards – love live bands!!
Hobbies?
Netflix and reading
Liverpool/Supporters Club
How long have you been supporting Liverpool?
Unofficially since I was 4 years old, but properly supporting and following them since 2005.
What was the first game you attended?
When they came to HK in 2007.
How will Liverpool's season finish?
Absolutely gutted we just missed out on the top spot last season. 1 point. 1 point!!! I have faith in us achieving it this season. C'mon Liverpool!!!
Favourite ever Liverpool goal?
Right now, I have to say the Origi goal against Barcelona (from the Trent corner). I must have seen that a hundred times now!! And it still brings tears to my eyes!
Fondest football memory?
Winning the 6th CL. So many tears that night. The celebrations we had went on for hours. And this is at 7am in HK! I couldn't speak for about 3 days after.
Favourite current Liverpool player?
The Egyptian King himself. I saw him play in HK, when we won the Premier League Asia Trophy. I vividly remember saying he was amazing and that he was going to be special. How right I was!
Favourite past Liverpool player?
I have a big soft spot for Coutinho…
How did you find out about the Hong Kong Reds?
My brother took me along to watch Liverpool play in HK, where I met a lot of the key members of the Supporters Club.
What does the Supporters Club mean to you?
It's great to meet up with like-minded, loyal supporters.
What's the best part about being an LFC fan?
Supporting a club with such an amazing history and we have the best fans all over the world.
What's the worst part about being an LFC fan?
So many highs and lows. I'm always crying!
Why is The Lockhart 88 a good venue for the Supporters Club?
The atmosphere has been amazing. I'm guaranteed to lose my voice the next day from all the singing!
How does it feel watching games so late at night, especially mid-week games?
It's difficult. Sometimes I'm up for 24 hours, just so I can watch the game!! Totally worth it though. Mid-week games? Eurgh. Going to work the next day is never fun.
What's different about a HK-based LFC supporter?
The bags under our eyes! Sometimes we have to go straight to work after a game, depending on KO time! Like the first game of this season – KO is at 3am and I have work the next day…
All-time favourite LFC moment?
Has to be Istanbul, 2005.
Favourite Supporters Club moment?
When Liverpool legends came to HK in 2017 and carried out a whole week of events. It was great to see them and meet them. I even took Hyypia to Soho for a jagerbomb!
Also, my brother couldn't attend the events, as he had to have brain surgery. LFC gave him a signed top from the first team. The way they are with the fans – speechless.
The Important Stuff
What's the most evil thing you've ever done?
I used to play dead to my baby niece until she cried!! AND I made her catch spiders for me. Yep, I was quite mean to her. We're still very close to this day though!
What was your worst haircut?
Around 3 years old – my mum cut my fringe wonky and it kept getting higher and higher till it was almost non-existent
What phrase or word do you use the most?
"Not being funny" or "basically"…
Do you have any superstitions?
During the 17-18 CL campaign, I had to buy and drink a bottle of prosecco during the games in order for us to win. Guess what I didn't do during the final…WHY??!?!
What's the best thing you've ever won?
Supporter Of The Year trophy, which came with a signed Ian Rush shirt!!!
What's the worst job you've ever had?
I worked at Old Trafford for a year during uni…money was good at the time!